GCH CH CHESAROYAL TALKIN BOUT JACKSON, CD, RA, JH
SR33561211
Sire: CH MARNETT'S GRANT MY WISH, UDX RE JH

SN23182501


Dam: CH SNOWY RIVER'S WATER SPRITE, RN SR08016704


DOB 03/19/2006, Breeder: Christopher and Margaret Haecker
Hips Good:
CB-9295G37M-VPI; Elbows Normal: CB-EL 1504M37-VPI; CERF Normal: CB-6191 (12); DM Clear: CB DM1254/60M, EIC Clear CB-EIC139/74M PRA Normal/Clear

JACKSON
, GRAND CHAMPION, MULTIPLE BEST OF BREED WINNER
FROZEN SEMEN AVAILABLE TO APPROVED BITCHES
JACKSON  PASSED OVER THE RAINBOW BRIDGE IN 2019. HE IS DEARLY MISSED AND NEVER FORGOTTEN. HE WAS A STRIKING MALE, CORRECT TO AKC STANDARD, OF MODERATE SIZE WITH EXCELLENT ANGULATION AND PROPORTIONS. HE HAD SUPERB DRIVE AND A HAPPY, FRIENDLY AND FUN LOVING DISPOSITION. HE EASILY EARNED HIS OBEDIENCE, RALLY AND JUNIOR HUNTER TITLES. JACKSON SIRED 6 LITTERS PRODUCING BEAUTIFUL PUPS EXCELLING IN CONFORMATION, HUNT, OBEDIENCE AND OTHER PERFORMANCE EVENTS.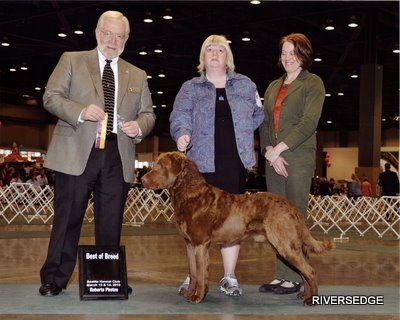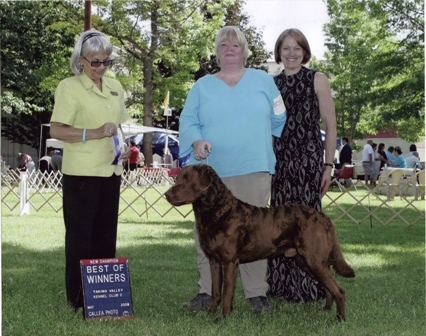 JACKSON EARNED HIS AKC CHAMPIONSHIP AS A 3-YEAR OLD WITH LIMITED SHOWING, OWNER HANDLED
Achievements
:
AKC Grand Champion 2011, Champion 2009, International Champion 2009, Rally Novice 2011, Rally Advanced 2012, Started Hunting Retriever 2013, Junior Hunter 2014, Companion Dog (CD) 2015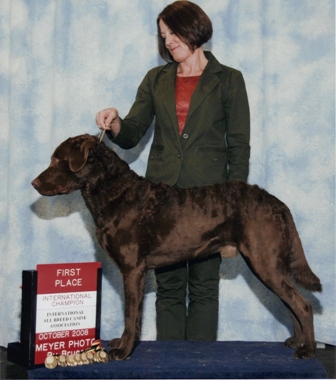 JACKSON EARNED HIS INTERNATIONAL CHAMPIONSHIP
AT 19 MONTHS OF AGE
Pedigree

Parents

GrandParents

GreatGrandParents

SIRE

CH Marnetts Grant My Wish UDX RE JH

SN2318501 (09-03) OFA24G OFELl47 CERF122 BR DNA: V57293

CH Pond Hollow Punt Gunner SF578523 (02-92) OFA 25F BR

CH Pond Hollow Ketch

SE908973 (11-89) OFA24F DKBR

CH Bayberry Pond Lady CDX TD JH SD785179 (01-86) OFA30 LTBR

CH Quail Ridge's Dixie Belle UD JH SF975332 (10-93) OFA24G OFEL100 DKBR
CH Chestnut Hills Sone E's Tug SD902035 (01-86) OFA24 BR

CH Chelsea's Bold Runner

SE770929 (09-88) OFA24G LTBR

CH Snowy River's Water Sprite RN

SR08016704 (07-06) OFA29G CERF25 BR

CH Chestnut Hills James Bowie CD

SN61226305 (12-00) OFA26E BR DNA: V162311

CH Chestnut Hills Coca Kele

SN31618403 (11-97) OFA34G OFEL34 BR DNA: V27750

CH Chestnut Hills Charisma

SM84843509 (11-93) OFA24F BR DNA: V299640

CH Snowy River's Dream Catcher

SN66259808 (08-03) OFA27F CERF70 BR AKC DNA#V296060

CH Quail Ridge Run's Jack Splash SN39932701 (07-98) OFA27G OFEL27 BR DNA: V54514
CH Snowy River's Moon Shadow CD SN10269506 (06-97) OFA25F DKBR