Welcome!
Welcome to RiversEdge Chesapeake Bay Retrievers. RiversEdge is a small, Internationally recognized kennel originally based in Gold Bar, now Tacoma, WA. We are known for breeding, raising and training outstanding quality Chesapeake Bay Retrievers. RiversEdge CBRs are known not only for excellence in performance in show, hunt/field, obedience and other performance events, but especially for outstanding temperament and quality as family dogs. Pups are sold with all health, and genetic disease clearances and clear of orthopedic issues via parentage.
Owner, Breeder and Handler, Nancy Rickerson has over 40 years experience in purposeful breeding excellence; producing and training high quality, well-rounded performance dogs. RiversEdge Chesapeakes are capable of high level performance in conformation, hunting/retrieving, obedience, and all other performance events. I breed for the highest quality in health, conformation and performance possible, so when you purchase a RiversEdge  dog, you will be matched with the quality canine partner that will more than satisfy your every expectation.
2023 RIVERSEDGE CHESAPEAKE BREEDING UPDATE
KATIE BRED TO JAMES BOWIE!!!
CH Chestnut Hills James Bowie, CD, JH  X CH AKOMI Kenai Kate at RiversEdge RN, CGC
PUPPIES DUE MAY 8th!
This will be a beautiful and very talented litter! Expecting primarily brown in color.
FLASH and PEPPER LITTER!!!
9 BEAUTIFUL PUPPIES BORN OCTOBER 22, 2022!!
6 Males, 3 Females.  All sold and placed in fabulous loving homes with new parents who will give them the best lives!!
Socialized with family and other Chessies. Early obedience and hunt training in process. These pups have great prey drive and outstanding temperaments! Three sets of puppy shots and Microchipped. This is a litter genetically clear of diseases by parentage. Parents have OFA Excellent/Good Hips. Deadgrass and Brown. Your next best family dog and outdoor companion!! UKC and AKC registrations.
RIVERSEDGE REDHOT CHILI PEPPER
and

MBISS GCHS CH RIVERSEDGE JUMPIN JACK FLASH RN JH AD CGC 
January 2022 breeding CH AKCOMI KENAI KATE and MBISS GCHS CH RIVERSEDGE JUMPIN JACK FLASH RN JH AD CGC produced 7 beautiful pups 3/22/22, 4 boys and 3 girls.
MBISS GCHS CH RiversEdge Jumpin Jack Flash RN JH AD CGC  has frozen semen for approved bitches
GCH CH Chesaroyal Talkin Bout Jackson RA JH CGC has frozen semen available for approved bitches
2021 RIVERESEDGE HIGHLIGHTS
JANUARY (PEPPER X FLASH) AND SEPTEMBER (KATIE X FLASH) LITTERS THIS YEAR
FLASH PICKED UP MULTIPLE BOBs AND SPORTING GROUP PLACEMENTS AND WINS
FLASH REMAINS ONE OF THE TOP 5 CHESAPEAKES IN THE NATION AND HAS RECEIVED AN INVITATION TO WESTMINSTER JUNE 2021!
2020 RIVERSEDGE HIGHLIGHTS
COVID-19 has limited all performance activities. We have all been delighted that conformation showing opened up in WA in late September. In the first 8 shows Flash took 7 Best of Breed wins!
2019 RIVERSEDGE HIGHLIGHT
MBISS GCHS CH RiversEdge Jumpin Jack Flash RN JH AD CGC rocked the AKC conformation show rings reaching an outstanding THIRD PLACE CHESAPEAKE BAY RETRIEVER IN THE NATION status. With limited showing, we are very proud to report he is a multiple Best of Breed winner, multiple Sporting Group Placer, and a Sporting Group Winner! HUGE thanks, praise and congratulations to his outstanding pro handler, Mr. Anthony Cantor, and the Cantor team! Many thanks to all the judges who recognized Flash's excellence.
Flash was stud to 4 litters in 2019-20, producing 26 beautiful pups. We're all looking forward to watching these pups grow and impress everyone!
JJ  and Dyson's Nov 2018 litter produced beautiful pups who are proving themselves in the field and in the show ring. Beautiful and talented pups. Outstanding hunting ability and performance 9-12 months of age!
RiversEdge Rockin Joan Jet, RN, JH with 2016 litter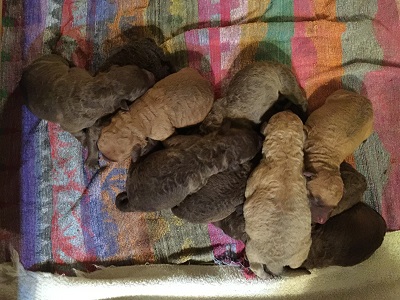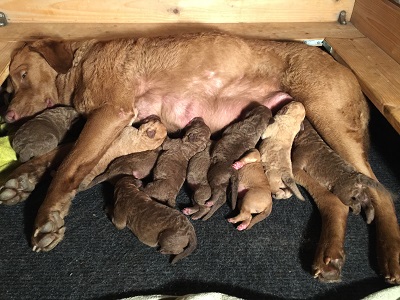 Trinity and JJ Christmas Duck Hunt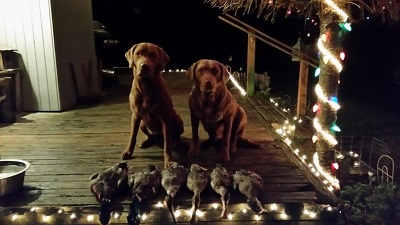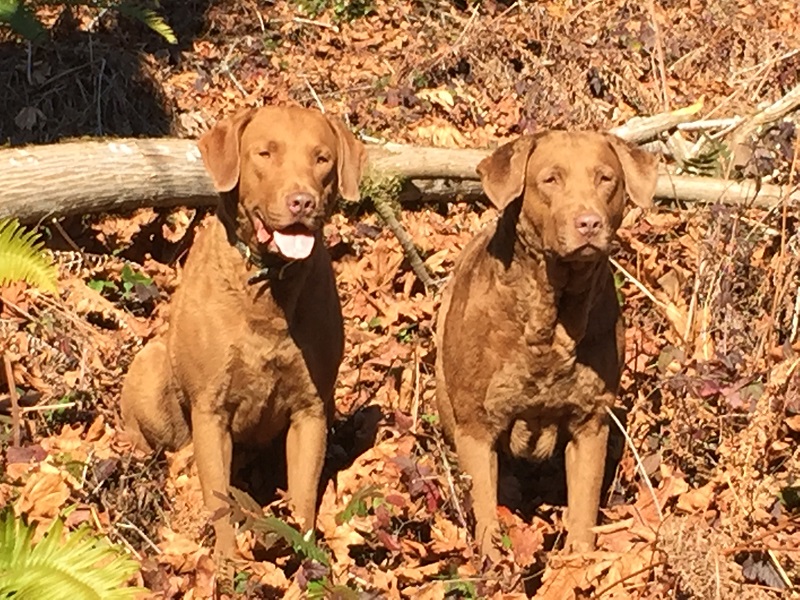 JJ and Trinity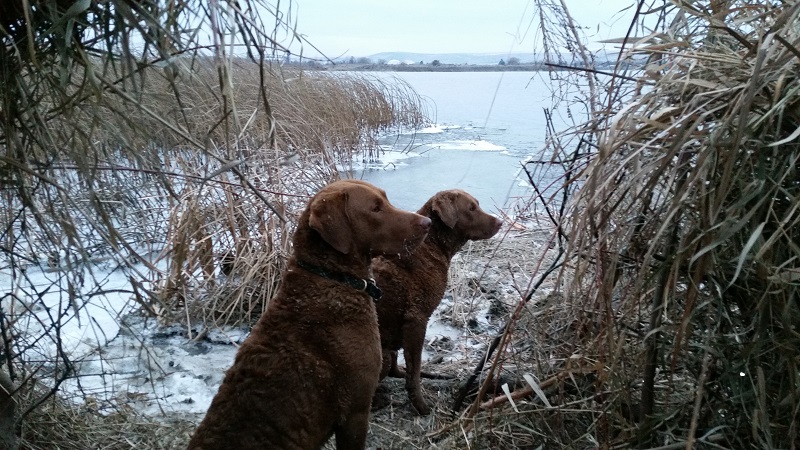 JJ and Trinity Duck Hunt
GET THE EDGE with RIVERSEDGE
RiversEdge Chesapeakes

is an AKC Nationally recognized kennel name. Few Chesapeake Kennels may claim this honor.
GCH CH RiversEdge Jumpin Jack Flash, RN, JH, AD, CGC
Hips Good, Elbows Normal, PRA, EIC and DM Clear.
Flash

achieved Rally Novice (RN) in 2016 and 2 titles in 2017: Junior Hunter (JH), and AKC Champion (CH) by 18 months of age,
Grand Champion and Achiever Dog titles before age of two.
Flash is a Best in Specialty Show winner, Sporting Group Winner, Multiple Sporting Group Placer, and Multiple Best of Breed Winner
He certainly is
FLASHY and talented!
RiversEdge Rockin Joan Jet, RN, JH
UKC Started Hunting Retriever
Hips Good, Elbows, PRA, CERF Normal, EIC, DM Clear.
Recent litters 11/18/18 and 2/27/16.
She remains RiversEdge's TOP HUNTING DOG
JJ

 retrieves countless birds as Scott's greatest hunting partner. He and his buddies call her "The Hunting Machine". Buddy Tom even bought a new truck with a bench seat in the cab for her so she could ride between he and Scott. I only occasionally get to take her to an AKC conformation show! She is just 5 points shy of her champion title. Her true claim to fame is her outstanding hunting skills.
Nicknames: Rock Star, Mustang Sally, The Jet, The Hunting Machine, and Missy Meister Nobody Nicer!
GCH Chesaroyal Talkin Bout Jackson, CD, RA, JH
Jackson

(3/19/06-11/12/19)
On November 12, 2019 my heart shattered, as I said goodbye to my best canine friend. Jackson was the foundation stud of RiversEdge, famous in his own right and a beloved family member. He had a long and successful career as a show dog, loved hunting, helped raise puppies and especially loved being my #1 companion and protector. He remains AT STUD for approved bitches with Frozen semen. He produced 9 beautiful, outstanding litters, boasting of of prodigy who have earned AKC CH, GCH show titles, Obedience, Rally, Agility, scent work and Hunt test titles, and hunting partners who have retrieved

countless

game birds. He is running, jumping and hunting joyfully and freely on the other side of the Rainbow Bridge. 
BISS GCH, CH Echo Bay's Jazzin RiversEdge, RN, JH
(12/6/04-11/2017)
Jazz

was a truly remarkable girl who was the foundation bitch of RiversEdge Chesapeakes. She holds a huge piece of my heart and there will never be another Jazz. She truly loved being a show dog and owned the ring. While obedient, she hated obedience trials because they were boring, yet was an amazing performer in dock dog events. She won Best of Breed in the Chesapeake Regional Specialty as a Veteran as well as Best Veteran in the American Chesapeake National Specialty in 2016. Jazz
earned an award of merit in the 2015 regional Chesapeake specialty as a 10yr Veteran as well as earning her NADD-AKC Diving Dog title, Junior division, with qualification to attend the Eukanuba National Diving Dog Championship. 
*****

RiversEdge Chesapeakes boast of titles including Best in Specialty Show Champion BISS, Grand Champion Silver GCHS, Grand Champion GCH, Champion CH, Junior Hunter JH, Senior Hunter SH, Rally Novice RN, Rally Advanced RA, Companion Dog CD, Achiever Dog AD, Achiever Puppy AP, Canine Good Citizen CGC. We are always striving for higher levels of performance.
RiversEdge Chesapeakes generally produces a litter per year. 
Purchasing a pup from RiversEdge includes as much support and guidance as you desire in raising your new family member and performance dog. Contact me for more information. We look forward to your visit!
RiversEdge Sporting Dogs, LLC
425-879-3403