Welcome to RiversEdge Chesapeake Bay Retrievers. RiversEdge is a small, Internationally recognized kennel based in Gold Bar, WA, known for breeding, raising and training outstanding quality Chesapeake Bay Retrievers. RiversEdge CBRs are known not only for excellence in performance in show, hunt/field and obedience, but especially for outstanding temperament and quality as family dogs.
Owner, Nancy Rickerson has 35+ years experience in producing and training well-rounded performance dogs. RiversEdge dogs are capable of high level performance in conformation, hunting/retrieving, obedience, tracking and agility events. I breed for the highest quality in health, conformation and performance possible, so when you purchase a RiversEdge dog, you will be matched with the quality canine partner that will satisfy your every expectation.
2018 JJ Litter Born Nov 18, 2018
BISS GCH CH Longmeadow Think Differently X RiversEdge Rockin Joan Jet, RN JH
Family pet and hunting companion
JJ's litter in 2016 produced outstanding pups who have grown to
achieve conformation, hunting and obedience titles as well as becoming outstanding family members.
Bred for outstanding conformation, temperament and health.
Both parents OFA Hips, DM Clear, CERF Normal, PRA Clear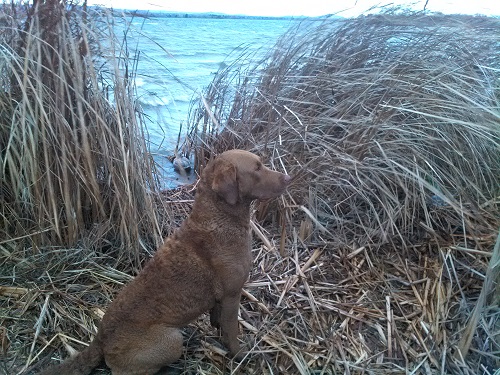 JJ and Dyson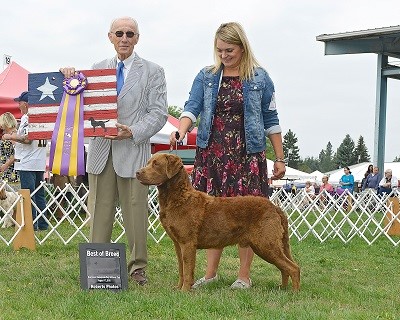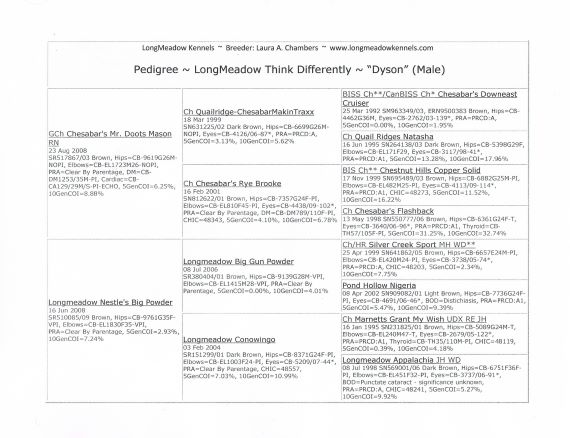 See pictures of JJ 's 2016 litter below, and take a look at  a testimonial re: JJ's hunting prowess!
Testimonial for RiversEdge Kennel
To all interested parties:
I have had the pleasure of hunting with JJ AKC name, (RiversEdge Rockin Joan Jet} for the past three years.
It has been a great experience and pleasure to watch this dog work. I have never seen a dog this focused
On the hunt. She is all business. I have been hunting ducks with dogs for a long time and I have never
Seen one better than Her. I once stayed at a pond while Scott and JJ went to try and jump shoot some
Ducks. While they were gone I downed a bird in some of the nastiest brush and the ponds edge that you
could ever imagine. When they came back she was sent on a blind retrieve across that pond and came
back with that duck. It was something to behold. She never wavered on the task. I have seen her dive
for diving cripples. We have hunted with her in some horrible weather. A hardier dog you will not find.
Any one getting one of her pups will have an awesome dog even if it's only half as good as her.
In all Sincerity
Thomas Goble
Contact Nancy Rickerson for interest in this litter
425-879-3403
RiversEdge Rockin Joan Jet, RN, JH with 2016 litter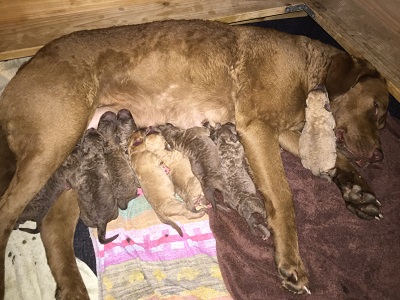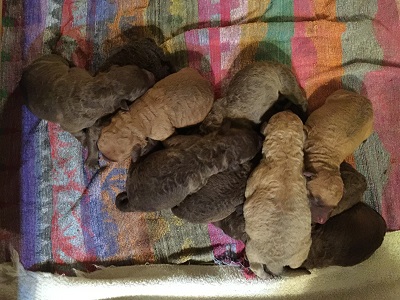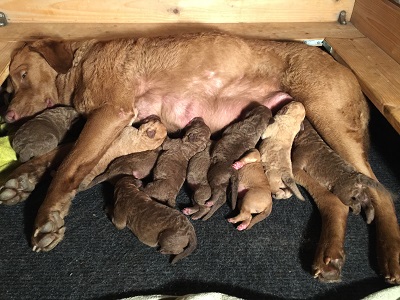 Trinity and JJ Christmas Duck Hunt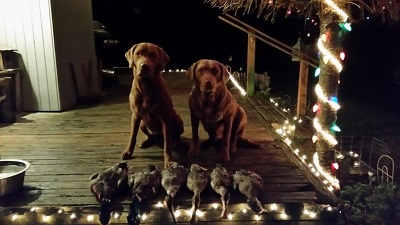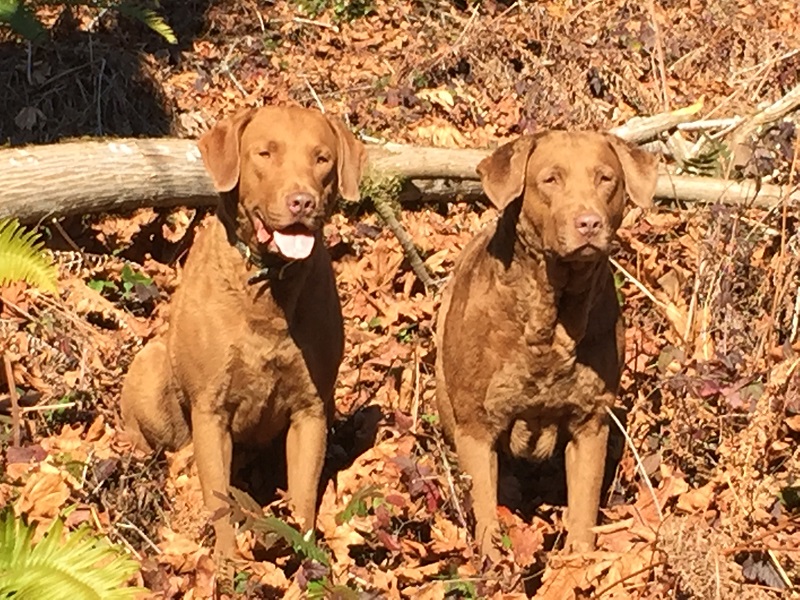 JJ and Trinity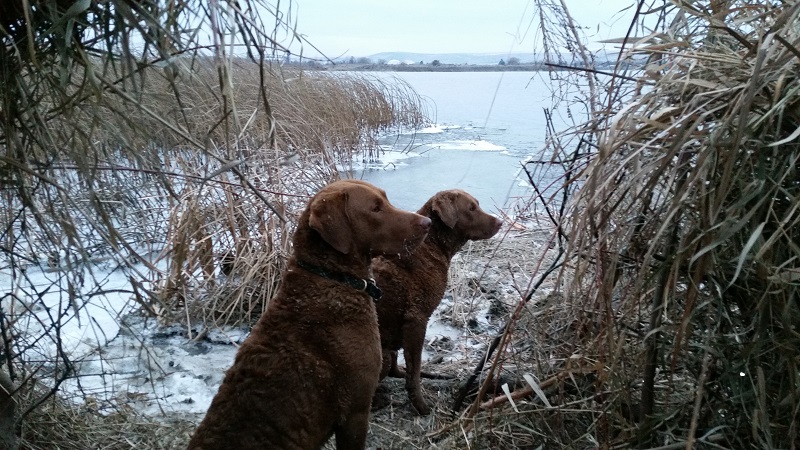 JJ and Trinity Duck Hunt
GET THE EDGE with RIVERSEDGE
RIVERSEDGE 2018 HIGHLIGHTS
2018 JJ Litter Conceived!!
CH Longmeadow Think Differently X RiversEdge Rockin Joan Jet, RN
We're very excited about JJ's litter due November 19, 2018.
RiversEdge Chesapeakes

is an AKC Nationally recognized kennel name. Few Chesapeake Kennels may claim this honor.
GCH CH RiversEdge Jumpin Jack Flash, RN, JH, AD, CGC
Hips Good, Elbows Normal, PRA, EIC and DM Clear.
Flash

achieved Rally Novice (RN) in 2016 and 2 titles in 2017: Junior Hunter (JH), and AKC Champion (CH) by 18 months of age,
Grand Champion and Achiever Dog titles before age of two.
Flash is a multiple Best of Breed winner
He certainly is a
FLASHY and talented youngster!
RiversEdge Rockin Joan Jet, RN, JH
UKC Started Hunting Retriever
Hips Good, Elbows, PRA, CERF Normal, EIC, DM Clear.
Recent litters 11/18/18 and 2/27/16.
She remains RiversEdge's TOP HUNTING DOG
JJ

 retrieves countless birds as Scott's greatest hunting partner. He and his buddies call her "The Hunting Machine". Buddy Tom even bought a new truck with a bench seat in the cab for her so she could ride between he and Scott. I only occasionally get to take her to an AKC conformation show! She is just 5 points shy of her champion title. Her true claim to fame is her outstanding hunting skills.
Nicknames: Rock Star, Mustang Sally, The Jet, The Hunting Machine, and Missy Meister Nobody Nicer!
GCH Chesaroyal Talkin Bout Jackson, CD, RA, JH
Jackson,

after a long and successful career, is now a retired Veteran and happily thriving at RiversEdge as the lovable family dog he's always been. He remains AT STUD for approved bitches with Frozen semen available. He has produced 9 beautiful, outstanding litters, boasting of of prodigy who have earned AKC CH, GCH show titles, Obedience, Rally, Agility and Hunt test titles, and hunting partners who have retrieved

countless

game birds.
GCH, CH Echo Bay's Jazzin RiversEdge, RN, JH
Jazz

earned an award of merit in the 2015 regional Chesapeake specialty as a 10yr Veteran as well as earning her NADD-AKC Diving Dog title, Junior division, with qualification to attend the Eukanuba National Diving Dog Championship. Not bad– she refuses to accept her age!
*****

RiversEdge has 4 adult Chesapeakes, 3 of whom are AKC Grand Champions, and all 4 with hunting, and obedience, along with conformation titles.
RiversEdge Chesapeakes generally produces a litter per year.
Purchasing a pup from RiversEdge includes as much support and guidance as you desire in raising your new family member and performance dog. Contact us for more information. We look forward to your visit!
RiversEdge Sporting Dogs, LLC
425-879-3403